Nutrinovate Vitamin Films Immuno
Nutrinovate Vitamin Films is an innovative nutritional supplements developed by Nutrinovate to enable a better absorption of vitamins through the oral mucosa, without taking a detour through the gastrointestinal tract.
A modern vitamin
Nutrinovate Vitamin Films are the result of an innovative technology developed as an alternative and more effective way of taking dietary supplementation. The product is created and developed in Sweden to use mainly in the northern climates. The films are affixed to the inside of the cheek or on the palate, allowing rapid absorption through the mucus membrane. The films provide an additional supplement of Vitamin D, resveratrol, selenium and Q10 – without passing through the digestive tract.
The films are based on the purest algae from the north of Norway and loaded with Vitamin D, resveratrol, selenium and Q10. The selenium and vitamin D contribute to the normal function of the immune system, the Selenium helps protect the cells against oxidative stress and vitamin D contributes to improved muscle function. In order to optimize the ingredients, the powerful anti-oxidant, resveratrol is added as well as Q10, an essential substance found in the mitochondria of the cells.
How to use
1. Place a film on the inside of the cheek or pm the palate, morning and evening.
2 The film will dissolve in 3-5 minutes. Do not drink any liquid during this time.
3. The recommended dose for adults is 4 films per day.
Ingredients
Consumers (Sodium Alginate), Consistent (xylitol), Transresveratrol, Consistent (Sorbitol), Water, Coenzyme Q10, Concentrate (Glycerol), Maltodextrin, Aromatic Peppermint OIL, Vegetable Oil, Sodium Selenate, Colecalciferol, Antioxidant (Tartaric Acid).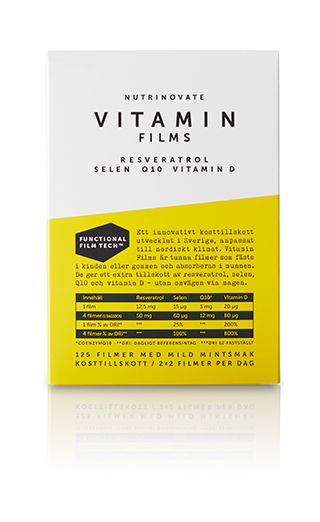 Buy Nutrinovate Vitamin Films here: